Concert at the NYU Multimedia Event

Auditorium "E. Montale", Opera House Carlo Felice
Genova, Italy, July 19, 2003
The event was planned in the framework of the New York University's Music and Dance Program in Italy, a three week Summer School held in Genova (director of the program Esther Lamneck). The program collected artists and multimedia experts teaching courses on arts and multimedia to a selected number of students. The event consisted of an installation and a concert.
The concert (lasted for about one hour) consisted of six pieces: "Madrid" (Full ensemble and tape), by Keith Fullerton Whitman, "Scrivo in Vento" (Interactive Performance) by Elliot Carter, "WZJB" (Full ensemble and tape) by William Raynovich, "On edge" (Full ensemble) piece composed and prepared during the NYU Summer School in Genoa, "Tarogato" by Larry Austin and Esther Lamneck, "Mappaemundi" by Lawrence Fritts, and "Rock and Roll Goddess" by Eric Lyon. All these pieces included also dance performance (choreographer Douglas Dunn).
Four of the six pieces included real-time interaction with EyesWeb. Both musicians and dancers could interact with the system performing real-time analysis of both audio and movement. Audio and visual content was generated according to a collection of mapping strategies developed along the EU-IST MEGA project and refined during the Summer School.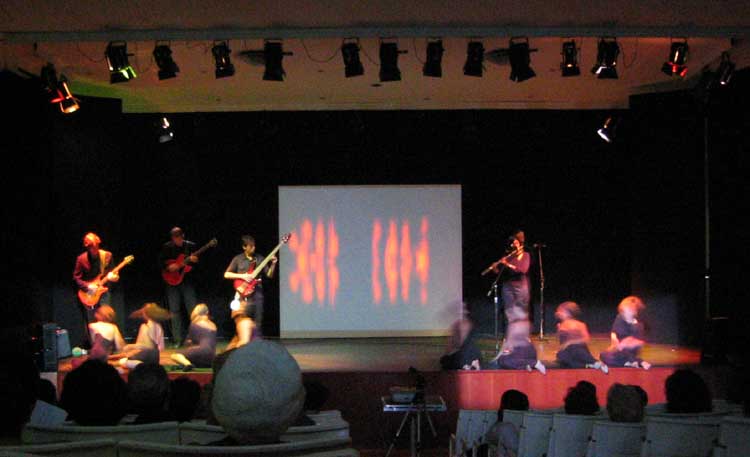 Excerpt from the concert, photo by Matteo Ricchetti
The EyesWeb open platform was employed for both analysis and synthesis of audio and visual material. More than 150 spectators attended the event. The performance was highly appreciated both by the public and by the experts participating to the Summer School.
Click here to see the photo gallery of the Summer Program 2003 (photos by Matteo Ricchetti).
InfoMus staff involved:
Antonio Camurri, Barbara Mazzarino, Matteo Ricchetti, Gualtiero Volpe
---